"My Heart Is Whole Happy and Full of Joy"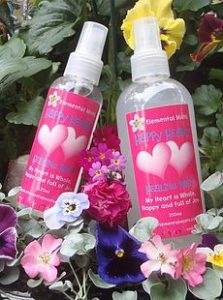 Happy Heart brings the sun back into our hearts after times of loss, grief or sadness or loneliness. It helps us find and reignite our Inner Spark of Joy.
The Special Blend of Flower Essences include Giant Sunflower, and Sacred Geometry Heart Protection.
Useful for :
Emergency Situations, helps keep us Heart Centered

Loss of Loved Ones or Companion Animals.

Relationship Break ups.

Before and After any Energy Healing.

Produced by Elemental mists in brisbane