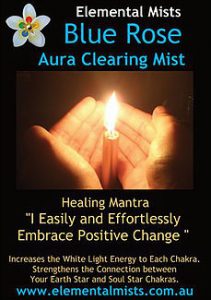 Blue Rose Clearance Aura Mist was created by Elemental Mists and is used to increase our internal light, to easily shift off anything that wasn't ours. To be able to let it go to easily and effortlessly embrace the light of positive change within us. As I started using it with my clients they found that they felt lighter, as if a burden had been lifted. I use this before and after each healing.
 "I Easily and Effortlessly Embrace Positive Change "
 For You :
I hope that in creating this mist, you will find that its gentle energetics help rekindle and grow the flame of the Divine within you. That Divine spark that is always there but sometimes we need to brig our attention to it. To cup it gently and breath in our most exalted selves. To know ourselves and our light deeply within our heart.